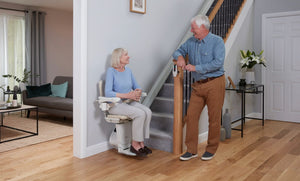 America's Finest Home
Medical Equipment
We Service everything we sell, and everything our competitors sell
Whether you own a stair lift, seat lift recliner, mobility scooter, or another type of Home Medical Equipment we will repair your product provided parts and technical service are supported by the manufacturer. In many cases you will receive a free one year in-home labor contract covering most of the man hours involved with repairing your product. So please contact us via phone or email to discuss purchasing one of our state-of-the-art products, or to setup an in-home appointment to repair your Home Medical Equipment.
OUR BADGES OF HONOR
Don't take our word for it
I could not have asked for better service. I only gave Solano Mobility & Accessibility tm five stars because I could not give them 10 ! They come the same day and got the chair lift back in operation so my mom could go upstairs to her bedroom. The only repair company I will ever call again ! 

Solano Mobility & Accessibility tm made a special trip late in the day to accommodate me, since I was unable to access the bedroom and bath level w/o the stair lift. I was and am so grateful for their hard work and extra time. The technician was so amiable and friendly, I would refer Solano Mobility & Accessibility tm with pleasure. 

Their tips saved me hours of work and frustration. They are accessible, in my case: text and phone. I frequently communicated with them during the install. They reached out the evening of the install to see how everything went. I appreciated the follow-up. 
Our Mission Is to help our customers simplify and enhance their quality of life with the usage of our products & services. Our Plan is to provide state of the art mobility & accessibility equipment, excellent services and economical prices.
Our Goal is to be the best and the biggest, and that is why we service our customers with our in-Home Delivery Service of most of our products throughout the Great United States of America !!!
Who We Are Solano Mobility & Accessibility tm specializes in Repairs and Sales of all types of Stair Lifts (straight and custom indoor & outdoor models), Wheelchair Lifts, Wheelchair Ramps, Mobility Scooters, Power Chairs, and Seat Lift Recliners.